full text of the classic FAA guide
Aviation Weather
For Pilots and Flight Operations Personnel
FAA Advisory Circular AC 00-6A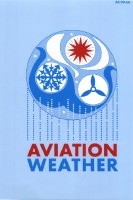 Read Full Text Online
Buy Printed version at Amazon.com
or Buy Full Text PDF version—Instant Download
For the first time, the classic FAA book Aviation Weather (advisory circular 00-6A) is available as a full-text, fully searchable PDF file. This electronic version (which is not available anywhere else) includes every word, chart, and photo as printed in the original FAA advisory circular — rendered as a beautifully crisp PDF document, and fully searchable.
Need to find the section about latent heat, or advection fog, or identifying types of clouds? Just use the search function in your PDF viewer to find it in an instant. Then, print the whole thing or just selected pages.
You can pay with your PayPal account or a credit card and will be able to download the PDF file immediately. (Because the file is about 100MB, a broadband connection is required to download the book.)
If you are not fully satisfied, we offer a 100% money back guarantee.